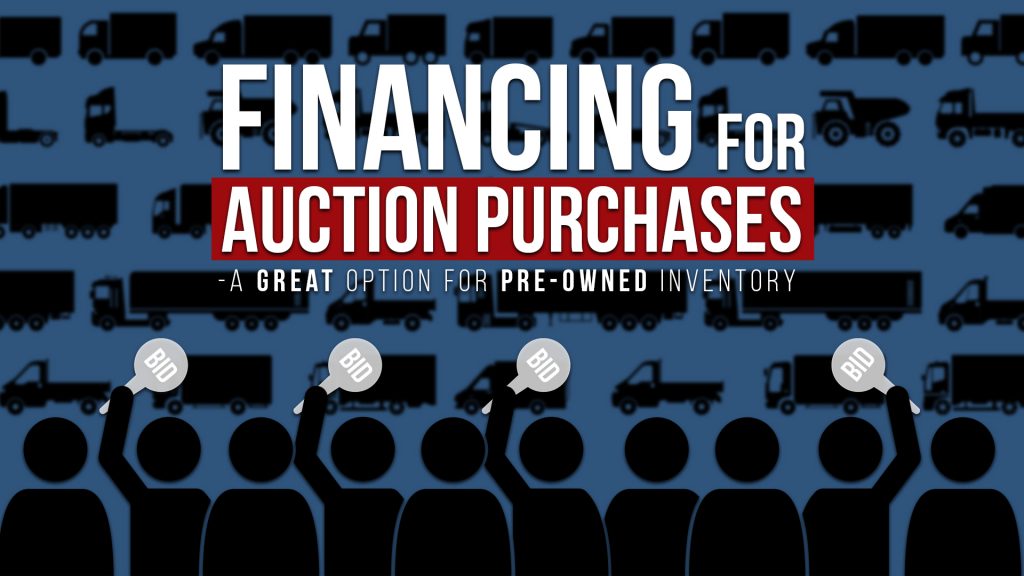 A Great Option for Pre-Owned Inventory
Although trucking and transportation continue to climb out of the global chip shortage, our industry has continued steady growth, increasing truck demand. With reduced inventory at many dealerships across the U.S., many in the trucking industry are turning to auctions and private-party sellers to purchase their next trucks, trailers, or equipment to run their businesses and grow their fleets.
Auctions Offer Buyers Flexibility and Freedom to Buy
Truck auctions offer buyers more flexibility and options for purchases since you can buy trucks online or in person. You can find several different truck auctions via a simple Google search. The popular online auctions include Auto Auction Mall, Copart, Insurance Auto Auctions, government auctions, and salvage auctions. Compared to other buying methods, at an auction, the price of the car is not fixed. You never have to negotiate; instead, you bid on the truck itself.
Several types of trucks and equipment will be available at an auction. These include the following:
• Used trucks & equipment
• Like-new trucks
• Salvage & wrecked trucks
• Bill of sale trucks
Used Trucks
Buyers can find used trucks at in-person and online truck auctions. Most of the inventory will be used trucks, and all used trucks have had at least one previous owner. You will be able to find trucks from all different years, makes, models, colors, and more.
Salvage Trucks, Wrecked Trucks, & Insurance Trucks
Mostly, you will see used trucks at an auction. Sometimes you will find trucks that have a salvage title, are wrecked or are considered insurance write-offs. Don't dismiss these trucks too quickly. Often, they only need a part replaced or some bodywork. In other cases, the truck may be a salvage title because theft, flood, or fire has damaged it. Review the VIN to determine why the truck is a salvage.
Like-New Trucks
On a lucky day, you may find like-new trucks offered at truck auctions. These trucks often land on an auction when a dealer is clearing out inventory. These trucks still have some of their manufacturer's warranty and low miles.

Bill of Sale Trucks

Sometimes, you may find a bill of sale truck available at an auction, and this means the truck does not come with a certificate of title. Buying this type of truck can be complex and time-consuming because you will need to obtain a certificate of title.

Discover CFF's Seven-Step Process to Purchasing a New Truck at Auction

You've found some fantastic deals on trucks offered at auction, but now you need to secure the right financing. Commercial Fleet Financing (CFF) provides funding that allows you to purchase semi-trucks and trailers, tow trucks, box trucks, light/medium duty equipment, and construction equipment at auction. Commercial Fleet Financing has offered auction lines of credit for customers for more than 25 years.

We will help you buy your next new truck or equipment at auction via these simple seven steps:

1. Call CFF and tell us what you want to spend at the auction.
2. Once we approve your credit, we will issue an auction line of credit letter.
3. This letter will get you into the auction and allow you to bid on the equipment you want to buy.
4. Once you are the auction winner, most auctions allow five to seven days to fund them and pick up your equipment.
5. As soon as possible, send CFF your bill of sale form from the auction company.
6. CFF will get the final paperwork started for your signature.
7. CFF will fund the auction company directly, typically in 24 hours, since you need to pay for the truck in total to take it home.
CFF covers all of the industries we finance, like semi-trucks, box trucks, tow trucks, light-medium duty, trailers, and construction equipment.
With CFF, you enjoy fast credit pre-approvals in as little as two hours, zero-money-down financing, and the most flexible terms in the industry. Contact us today to get started on your financing for your new truck or equipment!
About Commercial Fleet Financing, Inc.:
At Commercial Fleet Financing (CFF), our pros have given smart advice to fleet owners and owner-operators in the transportation, moving, towing or construction industries for more than two decades. With CFF, finding the right financing solutions is a phone call away and most borrowers secure commercial vehicle financing with ease. To talk directly with one of our finance pros and get started with credit approval in as little as two hours, CFF's phone number is (469) 281-2962.

---
Blog Articles
There's An Uptick In The Market Demand For [...]
The Demand for Light-Duty Is Growing! Since the modernization [...]
CFF-Industries Series
Welcome to CFF-U: Industries | Private Party Financing! [...]
Welcome to CFF-U! Matt Manero: Something is [...]
Hot Topics
Welcome to CFF-TV and This Week's Hot Topic! [...]
Welcome to CFF-TV and This Week's Hot Topic! [...]
Do you want to book the highest paying truckloads and stop focusing only on the loads that pay quickly? Factoring your freight bills can help you with your cash flow so that you can book more loads and get paid the same day.
Get all 10 FAQ's: "10 FAQ'S Everyone in Transportation Needs to Know Now" booklet below.

Download – 10 FAQs FOR FLEET OWNERS
The experts at CFF answer the most commonly asked questions about financing, including refinancing, which is better loan or lease, and how credit is measured for a company.