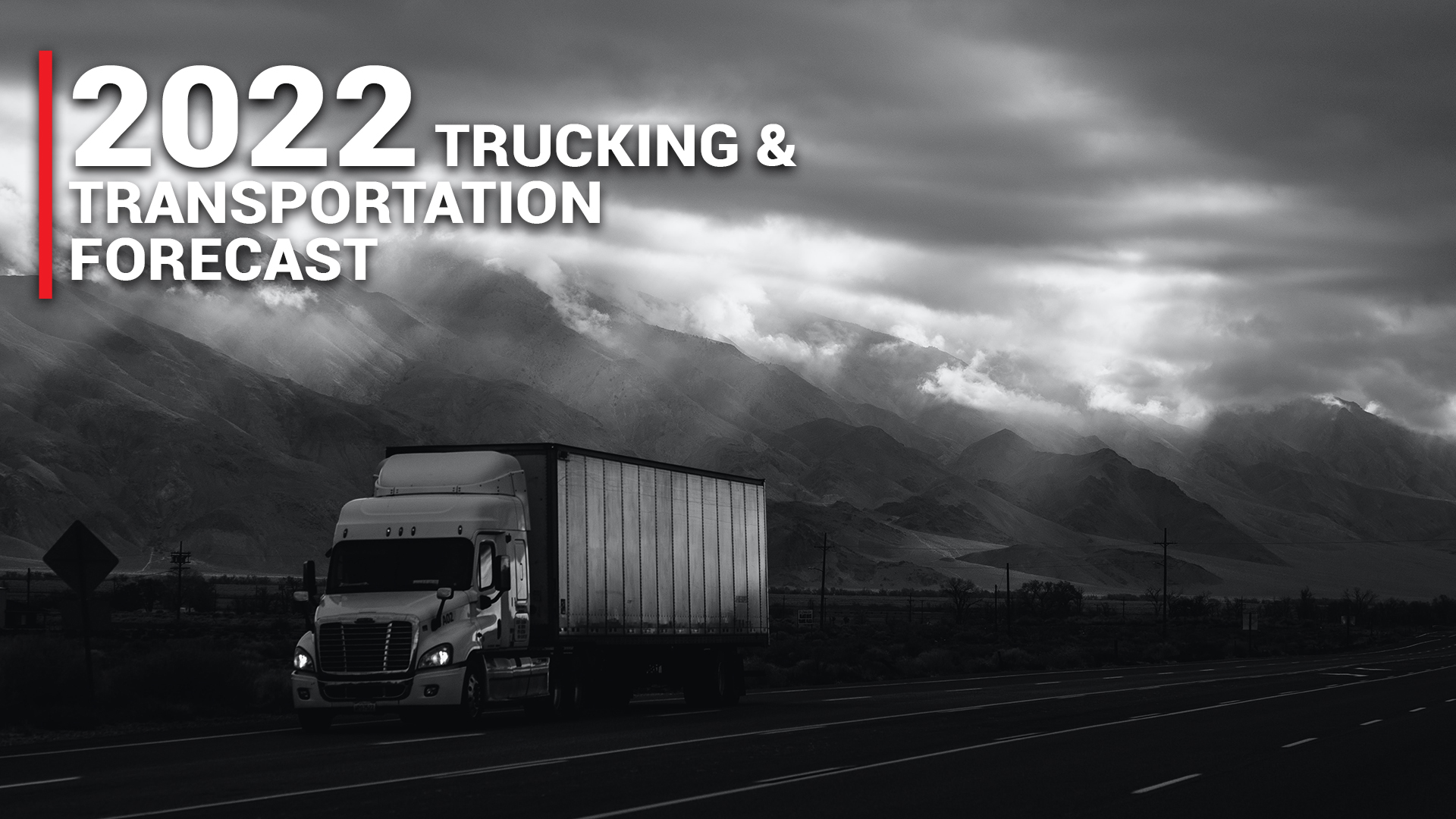 In 2022 and Beyond!
Distribution and supply chain issues have been a top news focus in 2021, relating to everything from microchips to food items. Shoppers are frustrated by the empty shelves at their retail locations, delays in shipping online products, clogged ports, and other supply challenges. People are more aware as ever that truck drivers are responsible for the modern miracle that things arrive at your doorstep when you order them.
In 2022 and beyond, the rapidly changing supply chain and distribution landscape will experience broader development as new levels of capabilities and expectations emerge for greater efficiency and transparency. Modern technology applications and streamlined channels will drive changes.
2022 will continue to be impacted by supply chain and labor issues; however, a brighter forecast is on the horizon. Here is the 2022 forecast for freight and distribution, trucking and transportation, delivery, and supply chain.
Freight and Distribution
According to the American Trucking Association's U.S. Freight Transportation Forecast to 2022, freight tonnage will spike 24 percent in 2022, resulting in a 66 percent revenue increase in the industry. A large portion of the rise for 2022, and even for the next decade, is dominated by the trucking segment.
In a nutshell, the 2022 freight landscape will be dominated by the 70 percent share of freight transport conducted by trucks, ahead of the rail industry. Freight rail is projected to fall to 14.6 percent by 2022.
While sea transport will see slower growth at 7 percent, the overall intermodal market is expected to reach more than $30 billion in 2022, up from $11 billion in 2016. This growth also drives the demand for more reliance on commercial trucking for product distribution.
As the vital role of trucking gains heightened exposure, the following demands have increased:
• Infrastructure investment in roads and bridges
• New technologies to aid commercial drivers and safety
• Added pressure to raise rates and compensation for commercial truckers
Trucking and Transportation
Old problems will continue, but with a more robust economic market and brand-new solutions for solving issues, transportation operations can succeed in 2022. The industry's struggle to attract drivers while adhering to safety will define 2022.
While business opportunities are plentiful in the trucking industry, the personnel to take advantage of them is lacking. The transportation industry is trying to manage the labor shortage through improving working conditions, rising wages, aggressively recruiting drivers, and offering enhanced benefits.
Retention efforts are a high priority with a strong focus on providing truck drivers with better pay, more benefits, improved working conditions, security for female drivers, and more. Fleet operators are also instituting safety bonus programs to encourage safe behavior and reward their top performing drivers.
In 2022, more driver training will emerge at the community college level and through private organizations committed to training qualified drivers.
Delivery
Most industries still grapple with the global shipping container disruption. Infrastructure and economic challenges mean logistics costs for food and beverage companies may be a continuous challenge. Shipping bottlenecks will continue in 2022, but with the implementation of new supply chain capabilities and solutions and a focus on hiring more truck drivers, congested ports will see slow improvement. On a bright note, the online food delivery market is expected to grow to $33.7 billion by 2026.
Some shipping rates will increase. FedEx announced their 2022 general rate increases — this year marks the highest GRI average rate increase since 2013, with the average rate increase for FedEx in 2022 at 5.9%. This rate spike is a substantial increase from previous years. USPS is decreasing some of its rates. For example, Parcel Select Ground will fall across the board and is becoming very competitive, with up to 58% decreases compared to the current rates.
Supply Chain
The COVID-19 pandemic challenged supply chains immensely, forcing them to evolve in many months. Materials backlogs, labor shortages, and capacity limits continue to force companies to develop. There is a strong demand for goods that use computer chips, and because of the lead time to build new products, supply will not meet demand next year.
Supply chain visibility and resiliency will be a strong focus in 2022 and beyond. According to Forbes, more than 90% of supply chain executives said visibility into their supply chain is essential to success, but less than a third have achieved true visibility.
Technology to Improve Supply Chains
Businesses are turning to technology tools to manage supply chain challenges and enhance their supply chains, improving processes and helping them build symbiotic relationships with their customers. Technology can help companies conduct logistics operations successfully and address data quality, compliance, risk management, costs, and more.
Gartner predicts that by 2023, 50% of global eCommerce enterprises will invest in real-time supply chain solutions, artificial intelligence, and advanced analytics capabilities.
For example, critical technologies like Cloud will be used to improve supply chain visibility, enhance a company's overall customer experience, prevent issues related to stock shortages and order backlogs, and help frustrated consumers. Cloud technology will allow businesses to visualize data from platforms and projects, bridging operational and digital capabilities gaps.
In the following year and beyond, supply chain digitization will be an important initiative to eliminate the risks of information silos and allow for more accurate forecasting and planning. It involves process and payment automation, improving efficiency, and delivering insightful data.
Analytics will become a powerful tool for damage control and risk prevention for supply-chain decision-makers. 80% of companies use qualitative forecasting methods for strategic supply chain planning annually in 2022 and beyond. Quantitative forecasting can provide a short-term analysis of supply chain activities.
Conclusion

In the U.S. and overseas, the freight and trucking industry has seen many changes in the past few years. Companies have proactively found solutions as consumer demand increases. The trucking industry has witnessed profound growth despite recovering from the Covid-19 pandemic. The outlook for 2022 shows promising signs.
About Commercial Fleet Financing, Inc.:
At Commercial Fleet Financing (CFF), our pros have given smart advice to fleet owners and owner-operators in the transportation, moving, towing or construction industries for more than two decades. With CFF, finding the right financing solutions is a phone call away and most borrowers secure commercial vehicle financing with ease. To talk directly with one of our finance pros and get started with credit approval in as little as two hours, CFF's phone number is (469) 281-2962.
---
Blog Articles
In the competitive world of ambulance fleet ownership, seasoned [...]
The construction industry is continually reshaped by emerging trends, [...]
CFF-Industries Series
Welcome to CFF-U: Industries | Private Party Financing! [...]
Welcome to CFF-U! Matt Manero: Something is [...]
Hot Topics
Interest rates on truck loans have [...]
FILL OUT A CREDIT APP [...]
Do you want to book the highest paying truckloads and stop focusing only on the loads that pay quickly? Factoring your freight bills can help you with your cash flow so that you can book more loads and get paid the same day.
Get all 10 FAQ's: "10 FAQ'S Everyone in Transportation Needs to Know Now" booklet below.

Download – 10 FAQs FOR FLEET OWNERS
The experts at CFF answer the most commonly asked quest