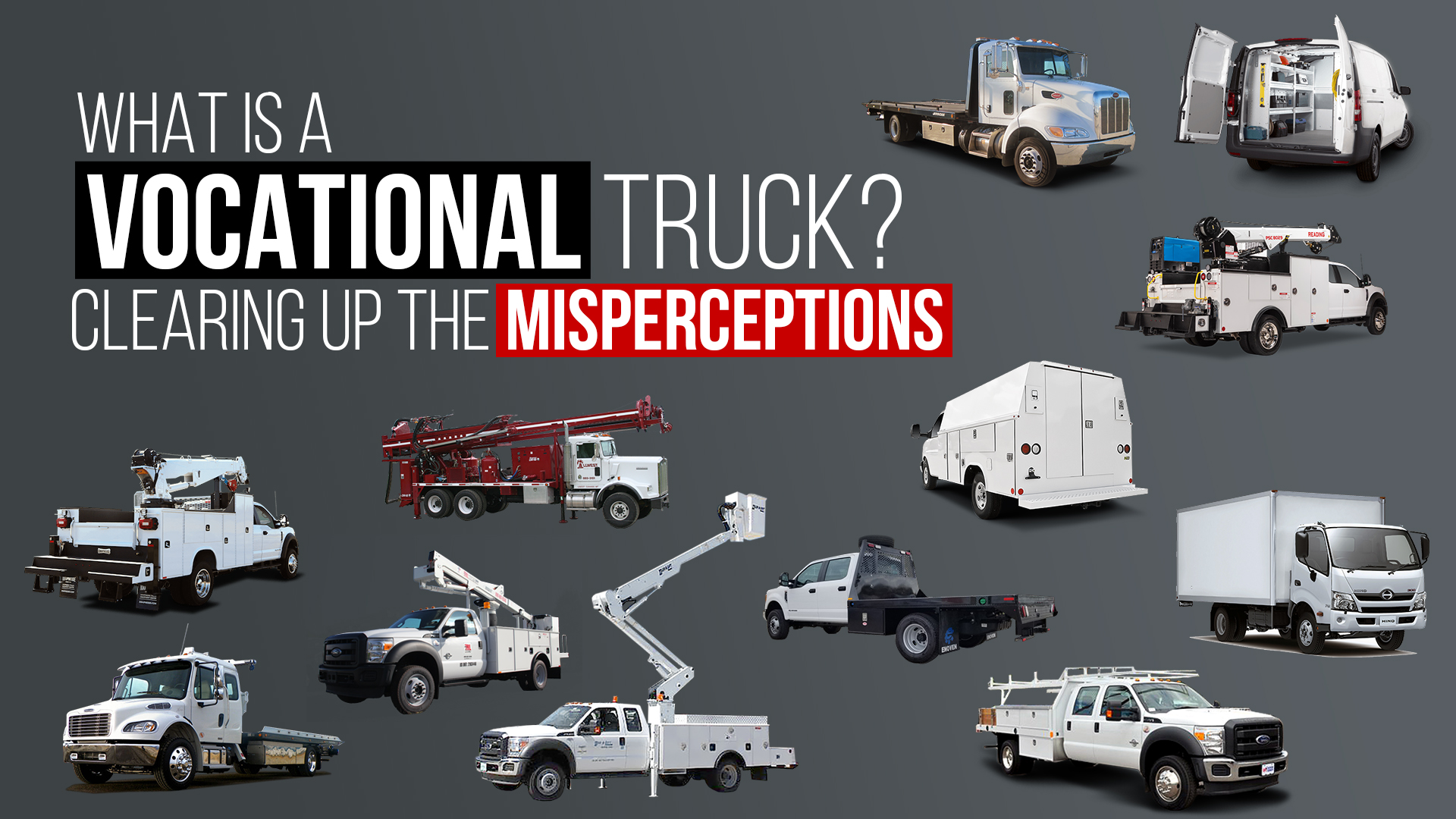 Vocational Trucks Help Meet High Demands In The Global Economy
Economic growth fuels a rise in urbanization and construction activities, and consumer confidence, boosting the demand and sales of vocational trucks. Bustling and expanding towns and cities across the US need these specialized and customized trucks. According to Verified Market Research, the global vocational truck market reached $6.32 billion in 2018 and could hit $10.83 billion by 2026.
Vocational trucks are used in various industries, from construction sites to delivery to fire and rescue to utility services. These versatile and robust trucks build, fix, and shape our towns and cities, and essentially, get imperative and demanding jobs done.
What Is A Vocational Truck?
The vocational truck is a durable work truck built to handle a specific job or task, such as pick-up & delivery, garbage collection, concrete mixing, distribution, tree trimming, firefighting, and much more. These trucks are custom built on a truck chassis with self-propelled or trailer-mounted configurations.
This category includes the following kinds of trucks:
Service trucks

Dump trucks

Box trucks

Rail trucks

Heavy-haul trucks

Utility trucks

Towing & recovery trucks

Flatbed trucks

End-dumps, side-dumps, belly dumps

Refuse (garbage trucks and roll-offs)

Concrete trucks

Cranes

Food and beverage trucks

Fire and rescue trucks
There are many more types of trucks in this category and sub-categories. You can find vocational trucks at construction sites, in the service industry, at landfills, and more.
The global vocational truck market is categorized into light-duty, medium, and heavy-duty vocational trucks. A high demand exists for light-duty vocational trucks in the U.S. The light-duty vehicles are easy to customize or modify on the existing chassis platform of a pick-up or van.
Innovations In The Vocational Truck Market
Vocational trucks are no longer basic or hard to drive, and electronics have influenced advances in vocational trucks for more than a half-century. This modernization has increased optimization for specific applications and made it easier to diagnose and service these trucks, resulting in better fuel efficiency and productivity.
With a booming trucking industry and high demand for truck drivers, vocational trucks have evolved to support a demanding and modern world. Today's vocational trucks need to be engineered with state-of-the-art mobility technology to revolutionize the commercial trucking industry and stay appealing to a younger generation of truck drivers.
Automatic manual transmission trucks are one of the current hot trends in the vocational truck market. It's all about maximizing driver comfort and making the driver more efficient. Another growing trend is adding safety systems to vocational trucks, such as collision and lane departure warnings. Another modification is lighter engines and enhanced fuel economy.
Manufacturers Respond To Business Needs For Vocational Trucks
In the coming years, aluminum bodies and parts will be used by manufacturers to improve payload and fuel efficiency. Newer vocational trucks with more storage space and accessibility to meet fleet operator demand could drive the market in the years ahead. Also, a manufacturer's ability to respond to changing consumer demands and meet customization requirements could positively impact the market growth of vocational trucks.
Whether you're looking to purchase your first vocation truck or add on to your existing fleet, CFF has been financing vocational trucks and equipment for over 25 years. Our expert loan consultants are ready to assist you and get your purchase financed today.
About Commercial Fleet Financing, Inc.:
At Commercial Fleet Financing (CFF), our pros have given smart advice to fleet owners and owner-operators in the transportation, moving, towing or construction industries for more than two decades. With CFF, finding the right financing solutions is a phone call away and most borrowers secure commercial vehicle financing with ease. To talk directly with one of our finance pros and get started with credit approval in as little as two hours, CFF's phone number is (469) 281-2962.

---
Blog Articles
There's An Uptick In The Market Demand For [...]
The Demand for Light-Duty Is Growing! Since the modernization [...]
CFF-Industries Series
Welcome to CFF-U: Industries | Private Party Financing! [...]
Welcome to CFF-U! Matt Manero: Something is [...]
Hot Topics
Welcome to CFF-TV and This Week's Hot Topic! [...]
Do you want to book the highest paying truckloads and stop focusing only on the loads that pay quickly? Factoring your freight bills can help you with your cash flow so that you can book more loads and get paid the same day.
Get all 10 FAQ's: "10 FAQ'S Everyone in Transportation Needs to Know Now" booklet below.

Download – 10 FAQs FOR FLEET OWNERS
The experts at CFF answer the most commonly asked questions about financing, including refinancing, which is better loan or lease, and how credit is measured for a company.