We did it!
This past Monday, January 13, 2020 was a great day for truckers in California and around the country.
According to several sources, in the hearing last Monday held in San Diego, Federal District Court Judge Roger Benitez, who handed down the initial temporary restraining order on New Year's Eve, extended the injunction.
This was a critical move not just for California based truckers but for truckers around the country because other states, such as New York and Illinois, are looking to adopt the sweeping AB5 law.
Now, apparently, we're not totally out of the woods yet.
You see, the goal of the California Trucking Association (CTA) was to convince the judge to take this injunction from being a temporary one to being a preliminary injunction – specifically for the trucking industry.
We did NOT get the preliminary injunction. Instead, sources say we did get an extension on the temporary injunction which shelters California independent truckers from being subjected to the landmark AB5 employment law.
As far as the date the final decision will be made by the judge on the argument made by the California Trucking Association (CTA) for a temporary restraining order, we're not sure.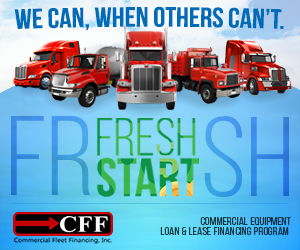 The Scopelitis law firm said in an email blast that it "remains unclear, but  anticipates an extension of the TRO for at least 14 days or until the order ruling on the preliminary injunction is filed."
Still, the argument made by the CTA was clear.
They argued that the Federal Aviation Administration Authorization Act of 1994, known as the F4A act, had made California's imposition of AB5 against the trucking sector an act that illegally substituted the state's authority for federal authority. Benitez's decision in the New Year's Eve temporary injunction gave a strong indication that he was leaning toward agreeing with the CTA argument.

CFF President Matt Manero gives his take on the latest extension of the AB5 law injunction. Watch the latest Monday Transportation in Minutes Now!
So California truckers get to enjoy more days above ground and hopefully we'll see this extended injunction play out our way.
About Commercial Fleet Financing, Inc.: At Commercial Fleet Financing (CFF), our pros have given smart advice to fleet owners and owner-operators in the transportation, moving, towing or construction industries for more than two decades. With CFF, finding the right financing solutions is a phone call away and most borrowers secure commercial vehicle financing with ease. To talk directly with one of our finance pros and get started with a credit approval in as little as two hours, CFF's phone number is (469) 281-2962.