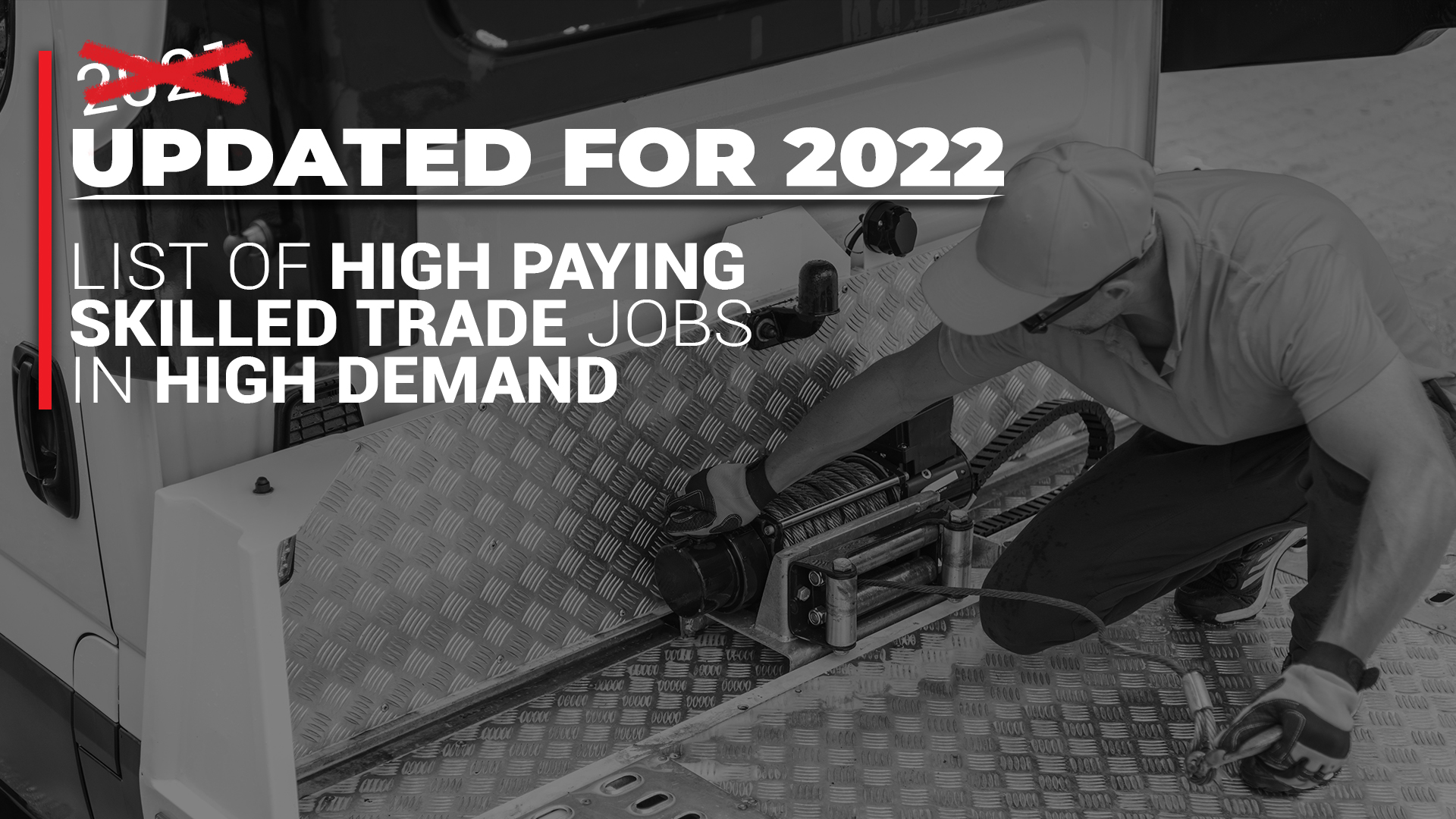 2022 – Skilled Workers Are In High Demand
One thing we know about what's ahead in 2022, skilled trade jobs are plentiful if you are seeking new opportunities. Our expanding economy puts qualified, skilled workers in high demand. Many of these skilled trade fields require specialty trucks, vans, trailers, or other industry equipment. Once again in 2022, vocational fields and trade industries need affordable financing options for purchasing medium-duty fleet vehicles and equipment.
Bigger Pay Opportunities for Skilled Trades
The Commercial Fleet Financing (CFF) team knows the skilled trade industry well because we've been working side-by-side with these tradesmen, providing financing for purchasing fleet vehicles for over 26 years.
Today, there is more power in the hands of individual workers who are willing to transition to high-demand careers, like high-paying skilled trade jobs. Some of these jobs offer more than $100,000 if you have the right skills and experience. Discover more about some of these fields that drive demand for fleet vehicle financing. And we're sure you will like the current salary projections.
Construction Managers – 2022
Average salary is $116,245
Construction managers make a good living, earning beyond $100,000 typically. This salary is well deserved. Construction managers are responsible for nearly every aspect of a given building project and often need fleet vehicles to transport their materials, tools, and supplies.
Construction managers ensure projects are completed on time, according to specifications, and on budget.
Even more, they are responsible for:
Overseeing the negotiation of a quality contract for a construction project

Ensuring they are adequately staffed to complete a building project

Checking to be sure that the proper materials have been ordered

Addressing safety concerns properly

Completing the building project
Elevator Mechanic – 2022
Average salary is $84,990
That guy fixing the elevator can make an average of $84,990 a year! This skill is in high demand. Knowing that elevators are human transport systems that can pull riders hundreds or thousands of feet in the air gives some credibility to these skilled workers' pay range.
Work conditions can also be challenging for elevator installers and repair tradespeople. They sometimes crawl into cramped spaces or deal with great heights. With that said, elevator work is one of the most lucrative trades you can find.
Elevator mechanics finance medium-duty fleet vehicles to carry their tools and materials to jobs.
Electrical Powerline Technician – 2022
Average salary is $62,301
As they are also called, these power utility technicians focus on ensuring that homes, businesses, and everything else has access to electricity. They install, maintain, and repair high-voltage power lines by climbing power poles and standing in cherry pickers.
Usually, the workdays are steady. But, if there's an outage, you could be called to help. In exchange for your dedication and time, you could earn a median salary of $62,000 a year.
Electricians – 2022
Average salary is $51,782
Electricians earn an average of $51,782 a year. They're some of the most demanded tradesmen for the last century.
Even with the many advancements in devices, appliances, and electrical systems in homes and buildings, electricians have only gained more demand because all these items need maintenance and repair.
That's why the demand for financing to purchase fleet vehicles is steady for electrical companies.
Landscape Architect – 2022
Average salary is $59,868
Did you know that landscape architects get paid an average of $59,868 a year?
Landscape architects design, develop, and maintain attractive and functional outdoor spaces. Jobs may be as small as residential home yards and as large as college campuses and large city parks. These professionals may also be employed by large organizations, governmental organizations, private architecture firms, or work for their businesses.
These tradespeople purchase box trucks and medium-duty vehicles to carry their tools, plants, and other materials needed for their jobs.
Power Plant Operator – 2022
Average salary is $87,522
A power plant operator is one of the top skilled trade jobs in high demand. Those working this job can make approximately $87,000. This busy trade skill maintains and manages electricity generation equipment. Sometimes, workers may need to do rounds outside of the control room and use trucks to get around to do their work. With the new power generation technology, you can now easily manage equipment fueled by coal, gas, or solar power.

Plumber – 2022
Average salary is $55,160
Plumbers are pretty savvy, and some make over $100,000 per year. And they are in high demand. Did that catch your attention? Plumbers spend their days installing, repairing, and maintaining plumbing systems, using various hand tools and a ton of know-how. They need trucks to get from job to job and to carry equipment.
The median salary for plumbers comes in at $55,160, a solid living. But, as you gain experience, that goes up. The top 10 percent bring in over $97,170, so some are certainly crossing the six-figure threshold.
Rotary Drill Operators – 2022
Average salary is $51,700
Rotary drill operators operate or set up drills to remove underground gas and oil or core samples for testing during oil and gas exploration. They measure work site dimensions, monitor pressure gauges, and move levers and throttles to control rotary table speed. They also regulate tool pressure at the bottoms of boreholes. They use trucks to travel to areas they need to work and transport equipment. No special education is needed, just on-the-job training for this skilled position.

Other notable top trade jobs and their 2022 annual salary averages:

Aircraft Mechanic – $78,624 (requires technical school education)
Geological and Petroleum Technician – $51,130 (may require an associate's degree)
Boilermaker – $55,268 (may require apprentice training)
HVAC Technician – $49,242 (on-the-job training or trade school education)
Home and Building Inspector – $57,960
Network Cabling Specialist – $90,000
Wind Turbine Technician – $56,230
Solar Photovoltaic Installer – $32,590 (on-the-job training)
Millwright – $49,603 (on-the-job training or vocational education)
These and many other fields will continue to grow in demand and pay in 2022 and beyond, which means the need for medium-duty fleet vehicles will continue to flourish as well. Whatever your skilled trade, CFF can help you get into the truck you need for your specific role. Contact us to learn what finance options we have available.
About Commercial Fleet Financing, Inc.:
At Commercial Fleet Financing (CFF), our pros have given smart advice to fleet owners and owner-operators in the transportation, moving, towing or construction industries for more than two decades. With CFF, finding the right financing solutions is a phone call away and most borrowers secure commercial vehicle financing with ease. To talk directly with one of our finance pros and get started with credit approval in as little as two hours, CFF's phone number is (469) 281-2962.
---
Blog Articles
There's An Uptick In The Market Demand For [...]
The Demand for Light-Duty Is Growing! Since the modernization [...]
Take The Necessary Steps To Verify The Condition [...]
CFF-Industries Series
Welcome to CFF-U: Industries | Private Party Financing! [...]
Welcome to CFF-U! Matt Manero: Something is [...]
Hot Topics
Welcome to CFF-TV and This Week's Hot Topic! [...]
Welcome to CFF-TV and This Week's Hot Topic! [...]
Do you want to book the highest paying truckloads and stop focusing only on the loads that pay quickly? Factoring your freight bills can help you with your cash flow so that you can book more loads and get paid the same day.
Get all 10 FAQ's: "10 FAQ'S Everyone in Transportation Needs to Know Now" booklet below.

Download – 10 FAQs FOR FLEET OWNERS
The experts at CFF answer the most commonly asked questions about financing, including refinancing, which is better loan or lease, and how credit is measured for a company.