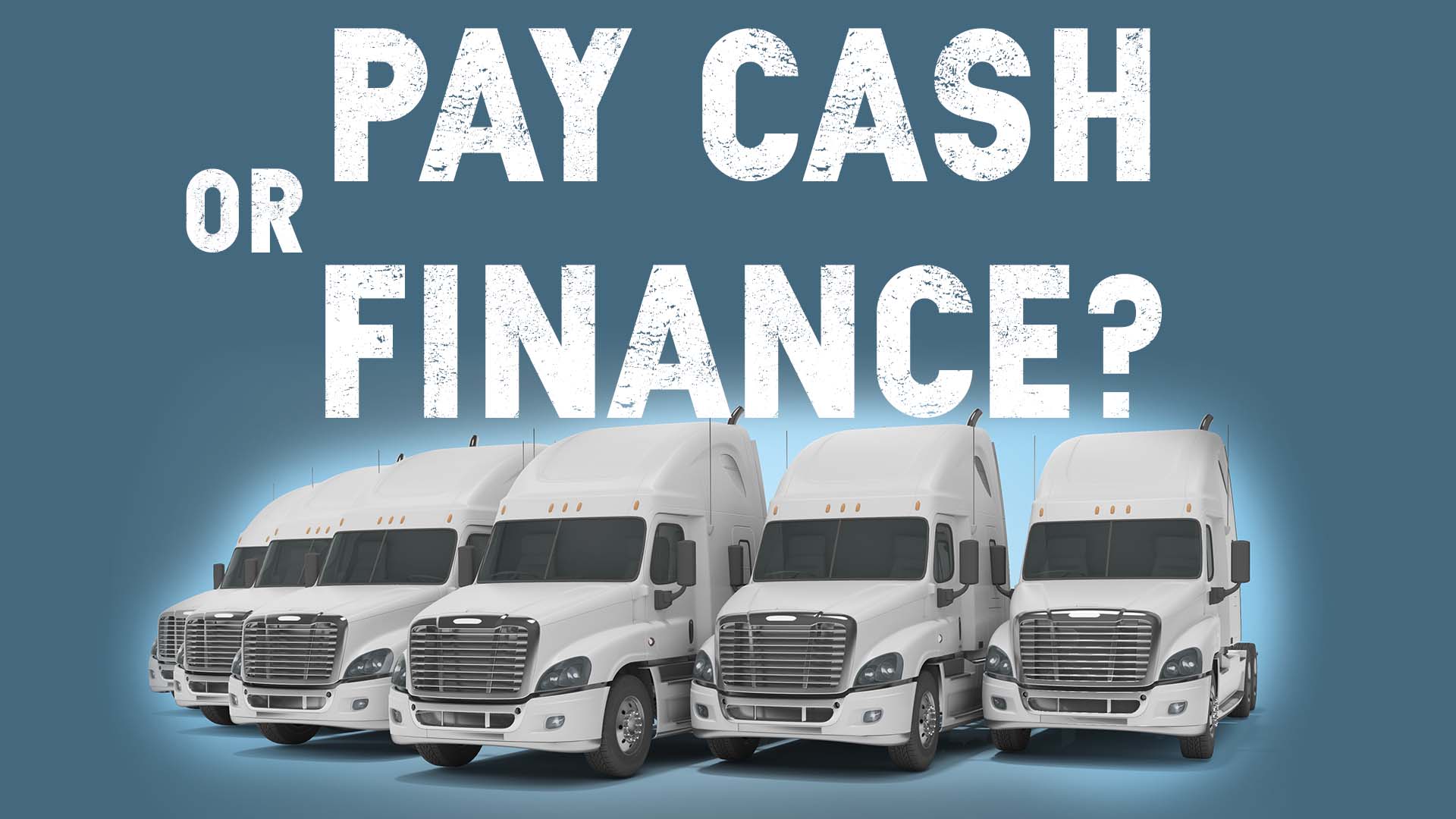 Cash Payments or Finance:
Should you finance or pay cash for your truck or equipment purchases?
Leverage and Financial Security
An essential aspect of investing and growing your business is the term leverage, meaning you can use someone else's money to buy equipment and increase your fleet and pay the units back over time.
Imagine putting $100,000 down toward the equipment, and then an emergency arises, and you suddenly need that money, but now you have no financial cushion. Simply put, using cash toward purchases is not a good way to allocate your funds.
Paying cash is not always the best financial strategy. An intelligent way to finance new equipment is with zero-down payment, so you save your money and have a stable financial net if you need it. Keep your money for other important business priorities to hire people, buy real estate, upgrade your facility, etc., and maximize your revenue. It's a win-win situation for all. You remain in control of your finances, rather than your finances controlling you and your decisions.
Commercial Fleet Financing (CFF) offers zero down payment options to help you save cash and use it for other essential business needs, which is an attractive offer.
CFF provides flexible terms, zero-down money options, and low payment options on a range of commercial trucks and construction equipment, making getting a loan or lease a smart choice to grow your fleet and business fast.
Advantages of Paying Cash
Cash is king. If you are paying cash, you pay the lowest possible costs because there are no financial costs involved. You won't be facing additional monthly payments. You own the equipment outright.
Disadvantages of Paying Cash
The disadvantages of a cash purchase include the negative impact on cash flow. Paying cash affects the opportunity cost, which is the potential investment return a business could make on keeping the cash and allocating it. Cash can be set aside to expand your business in other ways, like hiring more staff, replacing old computer equipment, or achieving other business goals.
Another downside to paying cash is that equipment, trucks, etc. depreciate quickly. It isn't always wise to spend cash on something that loses value every day.
The Better Choice: Financing

If a truck costs 5% to finance and expanding your business will likely return 15% a year, the company will net 10% growth in revenue by choosing to finance instead of paying cash.
Here's another scenario to consider: You own the equipment, but the warranty runs out. Your equipment needs significant repairs that will cost your business thousands. You are now trading payments for repair costs.
When you lease equipment, you can deduct the whole year of payments on your taxes as a business expense. When you purchase equipment, you can only deduct a percentage of depreciation for that year. You save more by leasing instead of buying commercial trucks and equipment.
Funds and Approvals in Less than 24 Hours
Dreams do come true. CFF provides several finance options to help reduce the stress around making a new truck or equipment purchase. We make the process straightforward and easy. You can get credit approval in less than two hours and receive loans and lease funds in less than 24 hours. Get in touch to learn more!

---
Do you want to book the highest paying truckloads and stop focusing only on the loads that pay quickly? Factoring your freight bills can help you with your cash flow so that you can book more loads and get paid the same day.
Get all 10 FAQ's: "10 FAQ'S Everyone in Transportation Needs to Know Now" booklet below.
Blog Articles
Vocational Trucks Help Meet High Demands In The [...]
CFF-University Teaches Business Owners the Language of Business [...]
CFF-University
Welcome to CFF-U! Matt Manero: Something is [...]
Welcome to CFF-U! Matt Manero: Welcome to [...]
Hot Topics
Welcome to CFF-TV and This Week's Hot Topic! [...]

Download – 10 FAQs FOR FLEET OWNERS
The experts at CFF answer the most commonly asked questions about financing, including refinancing, which is better loan or lease, and how credit is measured for a company.
About Commercial Fleet Financing, Inc.:
At Commercial Fleet Financing (CFF), our pros have given smart advice to fleet owners and owner-operators in the transportation, moving, towing or construction industries for more than two decades. With CFF, finding the right financing solutions is a phone call away and most borrowers secure commercial vehicle financing with ease. To talk directly with one of our finance pros and get started with credit approval in as little as two hours, CFF's phone number is (469) 281-2962.