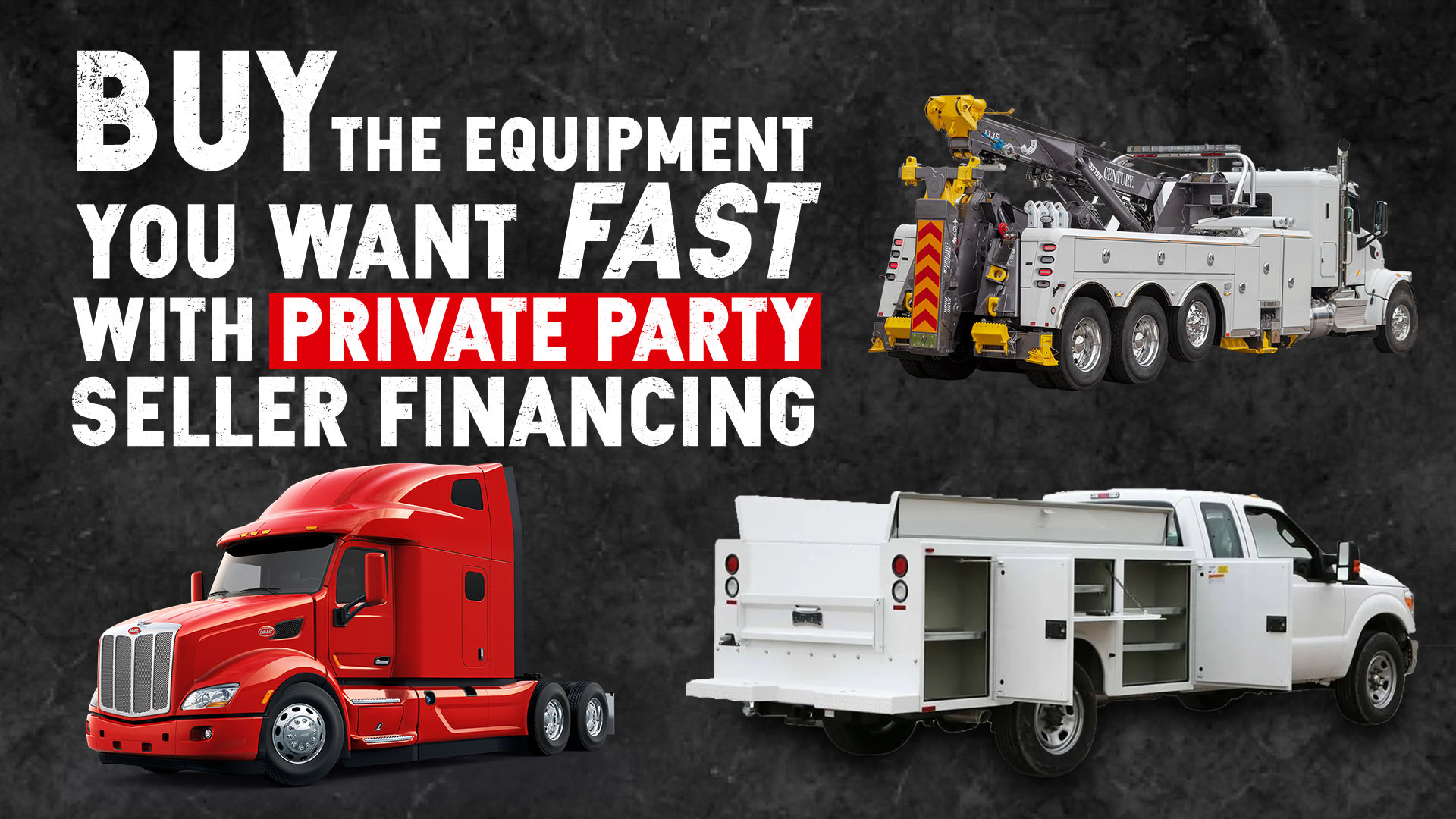 Private Party Seller Financing
While the global pandemic fueled a global chip crisis, the trucking industry continues to grow, increasing demand for trucks. With not enough inventory at dealerships, many trucking businesses rely on trustworthy private party deals to purchase the trucks and equipment they need to run their businesses and grow their fleets.
Advantages to Buying a Truck Through a Private Seller
Buying a truck directly from a private seller has its advantages versus buying from a car dealership. It allows buyers to expand their search beyond truck dealerships to find the ideal vehicle at an affordable price. Cutting out the middleman can be beneficial to truck buyers as long as buyers do their due diligence to make an informed decision on their purchase and grab the best deal.
Often, used trucks in good condition and with low mileage become available at affordable prices through private sellers, which can be found through friends, family, competitors, or online via Facebook, Craigslist, eBay, and other retailers. These sellers are likely more flexible with the vehicle's price, as they are motivated to sell at lower prices for fast cash. Working with a reputable private seller diminishes the pressure on both ends as the wheeling and dealing will often end up in a fair negotiation for both sides. You can get a truck faster as private sellers want to complete the title transfer quickly. In addition, a trustworthy private seller will hopefully provide the buyer with a detailed history of the used truck.
The Details Matter
If purchasing a truck from a private seller feels like the right direction, your next course of action is to secure the best deal on the right truck. Keep in mind that every vehicle and every seller is different; there's no magical formula. Doing your homework and some research will improve your chances of driving away in a great truck.
An essential first step is to compare the seller's asking price to the Kelly Blue Book to determine current market values. If the seller is asking for a higher price, then maybe you can negotiate the price down. Consider the market right now: Pricing for lower-mileage trucks remains high, according to J.D. Power Valuation Services. Less-desirable trucks are gaining interest but decreasing auction prices. Power's benchmark group of 4- to 6-year-old trucks brought 5.1% more money.
Asking many good questions is key to landing a good deal on the ideal truck that meets your business's needs. Ask questions about the truck's condition and the reason for selling it. We recommend that you ask for the serial number so that you can see if the vehicle has ever been in an accident or has any liens against the title.
Seeing the vehicle in person is critical as you examine the exterior, interior, and mechanical functions of the truck. On the outside, look for any body damage and worn tire tread. Inside, check out the condition of the upholstery and the hard surfaces. Power up the truck and make sure the climate system, seatbelts, locks, wipers, and technology features are all working correctly. Lastly, check the paperwork and the car's history to make sure everything lines up accurately.
Grow Your Fleets with Private Party Financing
Buying a truck privately helps you avoid dealer markups, but some risks exist. Some banks, credit unions, or online lenders don't offer financing for these trucks, and if they do, you may get charged a higher APR. On a bright note, you can minimize risk by finding a lender with the best private party auto loan for you.

Get the Truck of Your Dreams

Don't limit your finance options, and don't let the bank tell you that you can't buy the truck or equipment you want. Private-party transactions can drag on for long periods with other lenders.
Save the hassle and headache! Get your private-party deals financed through Commercial Fleet Financing (CFF). Dealer inventories are tightening, so contact us to get started on your next truck, trailer, or equipment purchase for your business.
CFF provides financing that allows you to purchase semi-trucks and trailers, tow trucks, box trucks, light, and medium-duty equipment and construction equipment from:
Friends

Competitors

Internet listings

And more
About Commercial Fleet Financing, Inc.:
At Commercial Fleet Financing (CFF), our pros have given smart advice to fleet owners and owner-operators in the transportation, moving, towing or construction industries for more than two decades. With CFF, finding the right financing solutions is a phone call away and most borrowers secure commercial vehicle financing with ease. To talk directly with one of our finance pros and get started with credit approval in as little as two hours, CFF's phone number is 469-669-0554.

---
Blog Articles
In the world of commercial fleet financing, finding innovative [...]
In the dynamic world of towing, experience is the [...]
CFF-Industries Series
Welcome to CFF-U: Industries | Private Party Financing! [...]
Welcome to CFF-U! Matt Manero: Something is [...]
Hot Topics
Interest rates on truck loans have [...]
FILL OUT A CREDIT APP [...]
Do you want to book the highest paying truckloads and stop focusing only on the loads that pay quickly? Factoring your freight bills can help you with your cash flow so that you can book more loads and get paid the same day.
Get all 10 FAQ's: "10 FAQ'S Everyone in Transportation Needs to Know Now" booklet below.

Download – 10 FAQs FOR FLEET OWNERS
The experts at CFF answer the most commonly asked questions about financing, including refinancing, which is better loan or lease, and how credit is measured for a company.