Could the freight industry be coming out of the death spiral it's been in during 2019 for this new year of 2020?
Matt Manero, president of CFF, believes so and he's putting his money where his mouth is.
Before we get there, however, it started with a discussion of lending trends as it relates to credit worthiness in an article on overdriveonline.com. Matt was interviewed in this publication and shared several insights on the subject.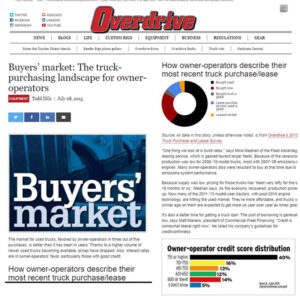 This discussion picked back up from a 2015 story focused on the truck-purchasing landscape for owner-operators at the time.
In this recent article, Manero shared this regarding lending based on credit, "we are seeing a moderate deterioration in credit scores for owner-operators and a tightening of credit standards by lenders. Lower average haul rates contributed to an uptick in slow pays in 2019, and lenders have tightened."
In 2019, lenders were more conservative at extending various forms of credit at lower rates for "start-up owner-operators and 1-3-truck operators, regardless of their credit score."
Still, to secure a loan with challenged credit, owner-operators "need a 10%-20% down payment and will pay rates above 10%," Manero revealed.
Here, Matt laid out these tiers of credit as he considers them:
"A" credit borrowers, 700+ credit score: As he said at the time, if the piece of equipment makes sense relative to the owner-operator's time in business – "the stability factor," says Manero – the borrower is likely to be able to get a truck loan at about 5%-6% interest. Those numbers for 1-3-truck owner-operators are likely to be somewhat higher today. This category is where a majority of owner-operators sit today, as noted. "Rates for borrowers with more than 3 trucks and credit scores above 700," Manero added, "have not moved much since we last talked."
"B" credit, 650-700: About 7%-9% interest, Manero said in 2015. Again, slightly higher today for the smallest of operations — about 16% of readers report falling in this range of credit scores.
"C" credit, 600-650: In 2015, Manero specified a 9% rate to the low teens for these borrowers. Today, as noted, you might add a point or more to that range for borrowers, with significant money down as a requirement for any.
Below the "C" level, the "subprime" space, as Manero calls it, CFF hasn't traditionally financed borrowers, and it's here where many among the 18% of such situated prospective truck owners find paths toward ownership in lease-purchase agreements arrived at in carrier programs, which can present numerous other difficulties if structured to the disadvantage of the operator.
Then, as a cherry on top of an already insightful contribution to that article, Matt dropped a line that amounts to a prediction of the freight industry for 2020.
He hinted at a program that would be centered around helping individuals with challenged credit:
between 500 – 649 – secure commercial equipment loans. That program is called Fresh Start Equipment Financing. Read our blog on Fresh Start.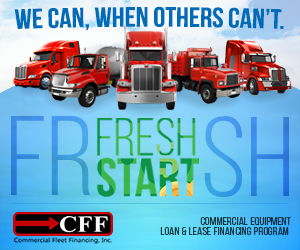 Apply for Fresh Start Program here >
Matt then went on to reveal that he's currently expanding CFF's Dallas office headquarters. "This is an indication of our belief that the market has stabilized and that there is ample opportunity to grow in 2020 and beyond."
That's called putting your money where your mouth is!
If you don't know if you can trust Matt Manero's ability to accurately predict future trends in the freight industry, consider the fact that he did it back in 2015 with precision. Matt made his prediction of the freight market of 2016 and 2017. To wit: "We'll have another cyclical downturn in 2016-'17," he said.
Check out what actually happened in the market here.

Watch Now: CFF President, Matt Manero shares some great economic news starting in 2020 that you'll love.
About Commercial Fleet Financing, Inc.: At Commercial Fleet Financing (CFF), our pros have given smart advice to fleet owners and owner-operators in the transportation, moving, towing or construction industries for more than two decades. With CFF, finding the right financing solutions is a phone call away and most borrowers secure commercial vehicle financing with ease. To talk directly with one of our finance pros and get started with a credit approval in as little as two hours, CFF's phone number is (469) 281-2962.