Budget, Budget, BUDGET!
It is crucial to keep your budget organized every month so that you won't lose money on your new business.  It is the foundation of your business.  Here at CFF we actually have software on our website for FREE at https://commercialfleetfinancing.com/budget-builder/ which will help you save time, money and the added stress of worrying about losing money each month, and rather if you adhere to the budget builder, you will be MAKING the maximum amount of money and GROWING your business.
Remember, the magic number is $15,000 (profits) per month.
The first step is budgeting well, which means first finding out where you are losing money before you can reduce costs. Analyzing your fixed expenses (such as insurance, equipment, rent, taxes, permits) and variable expenses (tires, fuel, stationery, lodging, and meals) will help you locate areas in your business that need to be improved. Conducting a profit and loss analysis monthly or even weekly helps you reign in any stray numbers. Hiring a local accountant or using inexpensive accounting software can often help you budget your expenses accordingly.
Fuel Efficiency
Fuel expenses can make up 35% or more of the trucking companies overall operating a budget. It is also a very challenging expense to predict, control, and monitor. Many factors synergize, and poor mechanics, adverse weather conditions, or other factors can impinge on your margins. This means that devoting time and money to aerodynamics and equipment maintenance are essential to fuel efficiency and reducing costs.
Repairs and Maintenance
 This is a good reference chart to save for repairs and maintenance as they can occur anytime.
If you are spending more than 13-14 cents per mile on maintenance, it might be a good time to look into investing in a new truck.
If you follow this schedule, you should be prepared with the appropriate funds to perform routine PM and pay for those unplanned costs that always seem to pop up. If you save too much and don't have to use it, it's money in the bank! Save for maintenance and it will save you time and money in the long run.
___________________________________________________________________________
Get all 10 tips by downloading the "10 Tips Everyone in Transportation Needs to Know Now" Booklet by going to www.10tipbook.com or clicking the image below.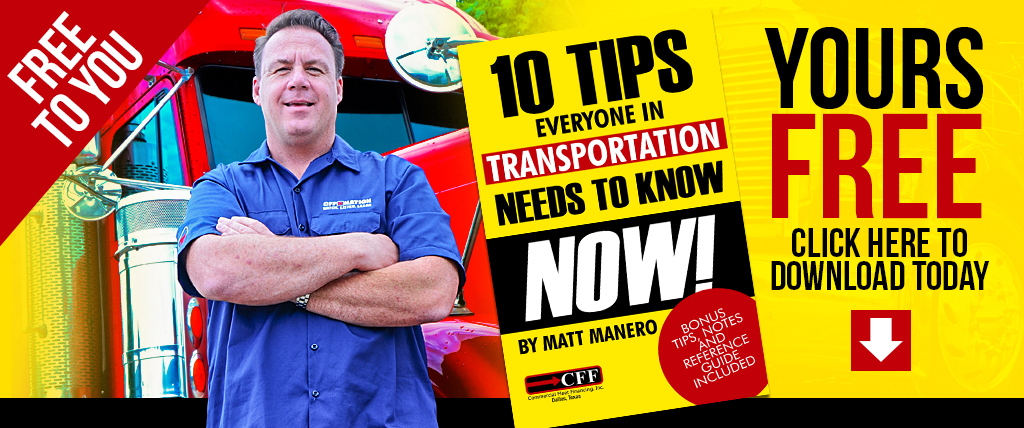 ABOUT COMMERCIAL FLEET FINANCING, INC.  Commercial Fleet Financing, Inc. (CFF) located in Dallas, TX. CFF is celebrating its 23rd  year in business and provides financing for commercial fleet vehicles such as box trucks, cargo vans, big rigs, tow trucks, dump trucks, and construction equipment. CFF is a 4-time winner of 2014, 2015, 2016, 2017. Inc. Magazine Top 500/5000 Fastest Growing Private Companies in America.
CONNECT WITH US