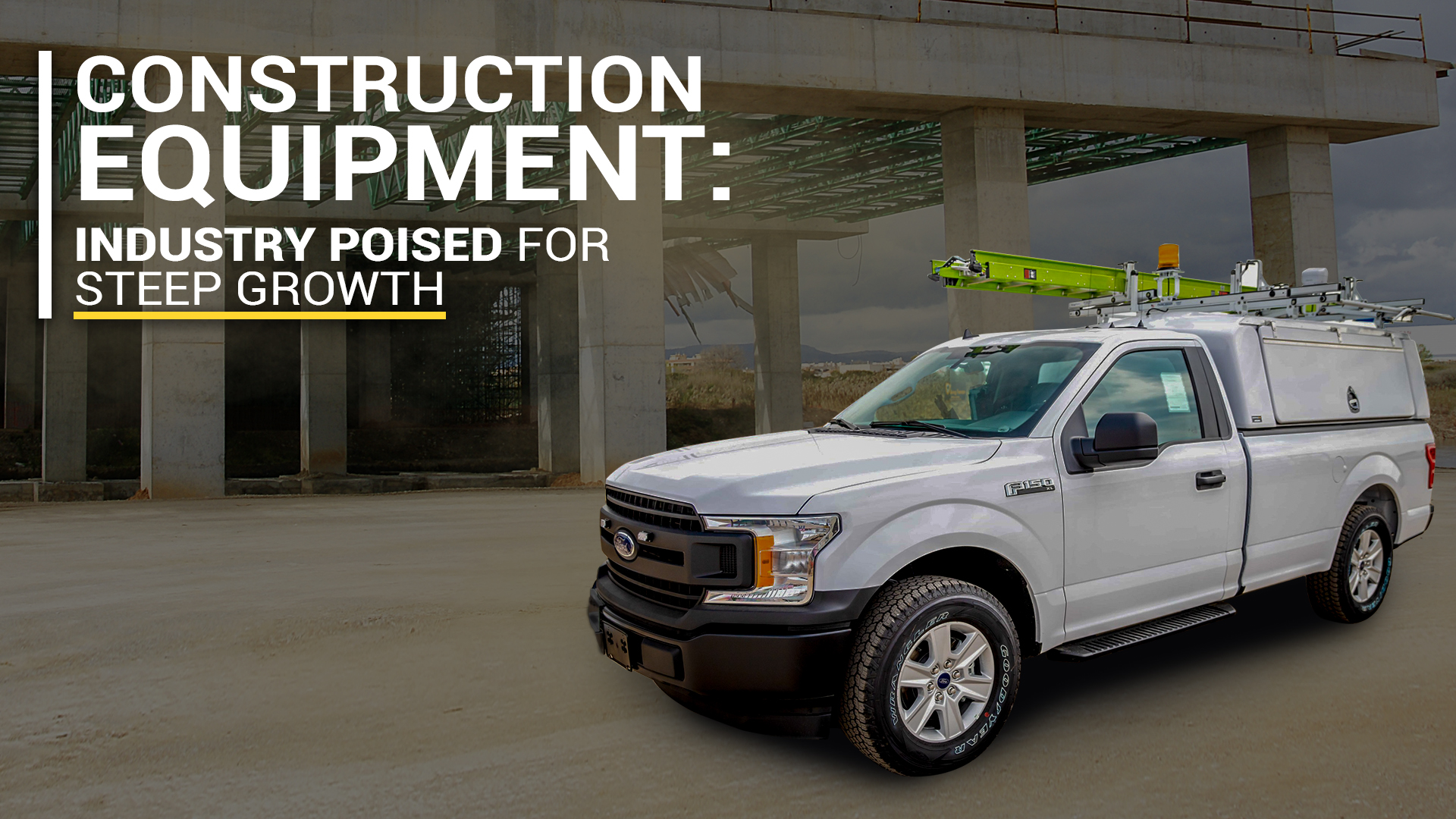 There's An Uptick In The Market Demand For Construction Equipment
The construction industry is a significant contributor to the U.S. economy, with commercial construction as a primary sub-sector. The sector has more than 680,000 employers with over 7 million employees and creates nearly 1.3 trillion USD worth of structures each year.
With the rise of commercial construction projects across the U.S., there's an uptick in the market demand for construction equipment. If you are in the construction business and looking to purchase a new or used truck or piece of equipment, don't let other lenders get in the way of your business needs, goals, and growth. By using Commercial Fleet Financing (CFF), the number one independently owned transportation equipment finance company in the United States, you will attain the most flexible terms in the industry to purchase new or used construction equipment or light- or medium-duty trucks. The good news is that CFF finances all vehicles and any truck upfitting when other lenders don't always cover these costs.
Construction Equipment Growth Drivers
Construction goes hand-in-hand with manufacturing, mining, and various services. The global construction equipment market was valued at USD 112.98 billion in 2021, and it's expected to grow at a compound annual growth rate (CAGR) of 3.9% from 2022 to 2030. Rising commercial constructions, such as IT parks, shopping malls, and other government and business buildings, drive industry growth. Construction equipment efficiently does the heavy-duty work required in the highly-demanding construction sector, boosting market demand.
An increase in industrial, residential, and commercial construction activities, rising government investments for infrastructure development, and broadening public-private partnerships are expected to provide lucrative opportunities for the growth of the construction equipment industry.
The focus on infrastructure and the development of automation in the construction and manufacturing processes also significantly impacts market growth. In the form of investments in infrastructure development, ongoing fiscal stimulus measures across the U.S. continue to drive industry confidence and new investments. The road construction machinery market continues to flourish, owing to the U.S. government's increased road and bridge development programs.
Different Types of Equipment in the Construction Industry
Categorized by equipment type, various equipment moves the construction industry forward.
• Earthmoving equipment (sub-segmented into excavators, loaders, backhoe loaders, and motor graders)
• Material handling (sub-segmented into cranes and telescopic handlers)
• Heavy construction vehicles
• Others
The earthmoving machinery segment dominated the segment with more than 60% revenue share in 2021. Earthmoving equipment accounts for the highest demand among all types of construction equipment, owing to its advantages in improved efficiency, cost savings, and safety.
The material handling equipment segment is expected to flourish, with an increased need for cranes and other machinery handling heavy construction materials and products.
Concrete and road construction machinery will reach USD 39.10 billion by 2030.
The renting or leasing of various construction equipment mentioned above is also on the rise due to higher costs for newer equipment and maintenance.
Dump Truck Drivers Make Huge Profits
Don't forget about dump trucks! The dump truck industry is very profitable and growing at a fast rate. If you decide to venture into this profit-potential industry, you will likely make huge returns from your investment. Many ongoing construction projects occurring throughout the United States make this business venture lucrative. By 2025, the U.S. dump truck service market is expected to reach $20.64 billion, just for mining and construction projects on a significant scale.
CFF Offers the Most Flexible Terms in the Market
Are you in the market for construction equipment or a truck and ready to improve productivity and increase your profits? The demand for construction equipment is estimated to see tremendous growth in the coming years; thereby, the need for construction equipment financing is also expected to grow. Commercial Fleet Financing offers a simple and quick process with credit approval in as little as two hours, loan and lease funds delivered in as little as 24 hours, zero-money-down options, and the most flexible terms in the industry. It's easy to see why more people choose Commercial Fleet Financing over the slow and cumbersome big banks and credit unions.
Contact CFF to Learn About Light-Duty Truck & Construction Financing
Since CFF cannot compete against construction equipment manufacturers, our sweet spot is used construction equipment, auction purchases, and private-party deals. CFF can finance the truck and upfitting when other lenders cannot offer this option.
Contact Commercial Fleet Financing to hear about the most flexible financing terms in the market to purchase equipment or expand your fleet.
About Commercial Fleet Financing, Inc.:
At Commercial Fleet Financing (CFF), our pros have given smart advice to fleet owners and owner-operators in the transportation, moving, towing or construction industries for more than two decades. With CFF, finding the right financing solutions is a phone call away and most borrowers secure commercial vehicle financing with ease. To talk directly with one of our finance pros and get started with credit approval in as little as two hours, CFF's phone number is (469) 281-2962.
---
Blog Articles
In the world of commercial fleet financing, finding innovative [...]
CFF-Industries Series
Hot Topics
Welcome to CFF-TV and This Week's Hot Topic! [...]
Welcome to CFF-TV and This Week's Hot Topic! [...]
Do you want to book the highest paying truckloads and stop focusing only on the loads that pay quickly? Factoring your freight bills can help you with your cash flow so that you can book more loads and get paid the same day.
Get all 10 FAQ's: "10 FAQ'S Everyone in Transportation Needs to Know Now" booklet below.

Download – 10 FAQs FOR FLEET OWNERS
The experts at CFF answer the most commonly asked questions about financing, including refinancing, which is better loan or lease, and how credit is measured for a company.